Scout Advancement Weekend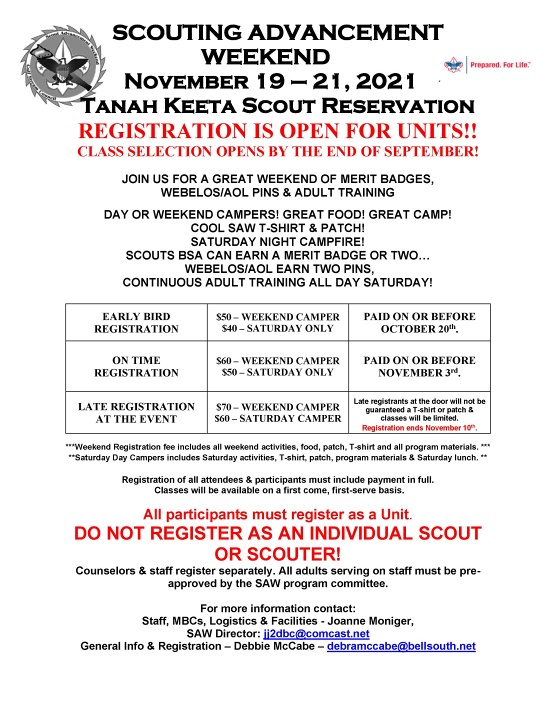 SCOUTING ADVANCEMENT WEEKEND (SAW) 2021 - November 19, 20 & 21, at Tanah Keeta. Scouts BSA get a hands-on experience while earning Merit Badges. We will offer the Scouts BSA over 60 plus Merit badge classes to choose from, Scouts could take an all-day class or two half day classes…
The Merit Badge Counselors for all the classes are either employed in their field or are hobbyists in the class they teach, they have spent many hours preparing for their classes , SAW gives each scout the opportunity to learn from the best and perhaps think of a career choice in the future.
Webelos & AOL Cub Scouts also join the older Scouts for the weekend to get the Scouts BSA experience, they are offered their own classes. Webelos will earn two Adventure Pins during SAW.
Not to leave the Adult leaders out…training classes will also be offered throughout the day, choices could include Scoutmaster Specific, Merit Badge Counselor training, Campfire building to Knot tying & more, up to 15 classes run continuously, so Scouters can fit them into the day's schedule.
Scouters can join us for the whole weekend or just for the day on Saturday.
Scouts from all Councils are welcome.
Please note: SAW is a Unit sign up event, don't sign up thru your individual/family account..this process allows for a smoother check in, shirt distribution, campsite assignments, keeping track of the completed MBs, etc...get with the Camping chair for your Troop or Pack and register correctly.
Scouts must be accompanied by adults/leaders for the entire event, sign up the adults the same as the youth.
Staff, MBCs, Logistics & Facilities - Joanne Moniger, SAW Director: jj2dbc@comcast.net
General Information & registration - Debbie McCabe - debramccabe@bellsouth.net