National Youth Leadership Training 2021 (NYLT)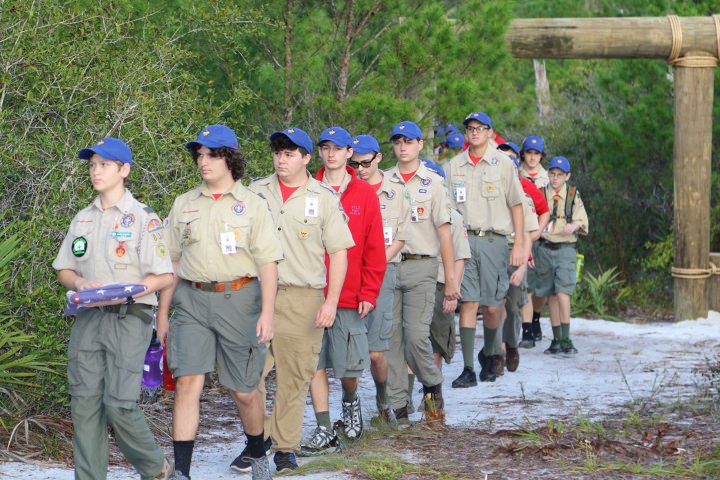 NYLT 2021 has filled!
Stay tuned for information about our 2022 course.
Scouts that would like to be placed on a waiting list for the 2021 course should contact Rick Echeverri, Course Director, at echeverriricardo@gmail.com.
NYLT is the premier youth leadership development training offered by the Boy Scouts of America.
National Youth Leadership Training (NYLT) is an intense six-day, five-night course held at Tanah Keeta Scout Reservation. NYLT gives Scouts, and Venturers methods, skills, and experiences to become better leaders in their unit. The course centers around the concepts of what a leader must be, what he/she must know, and what he/she must do – with a clear focus on how to accomplish all this. NYLT courses are limited to 48 56 participants.
Directions for Registering:
1. Register and Pay using the red button at the bottom of the page.
2. Fill out Application: Participant (found under Resources - it is an online form linked
here
)
3. Have parent fill out Parent Approval (found under Resources - it is an online form linked
here
)
4. Have Unit Leader fill out Leader Approval (found under Resources - it is an online form linked
here
)
December 27, 2021 - January 1, 2022 at the Tanah Keeta Scout Reservation
Senior Patrol Leader: Zack G.
Course Director / Scoutmaster: Rick Echeverri
Please read Application Thoroughly
Participants must:
Be at least 13 years old
Completed Introduction to Leadership Skills for Troops (ILST)
Be at least First Class in rank (for Venturers, have an equivalent level of camping and outdoor skills)
Have Scoutmaster/Crew Advisor approval
Be willing to behave in accordance with the Scout Oath and Scout Law at N.Y.L.T
Be Prepared mentally, emotionally and physically to handle a week of N.Y.L.T
Be in attendance for the entire course.
Participants should:
Have taken part in at least 1 (ideally 2+) weeks of resident Scout camp
Be a "credit" to their unit—dedicated, conscientious, and responsible
Be serving in, or about to serve in, a significant troop or crew leadership role
Have good basic camping and outdoor skills
Want to attend
Participants should NOT:
Be those with significant homesickness issues or discipline problems
Be Scouts who have never camped without a parent present
Participants, who create problems for themselves or others by not following program rules, or by violations of law or of the Scout Oath or Scout Law, may be sent home at the discretion of the course leadership. No refunds will be given in the event of an early dismissal from N.Y.L.T.
Pre-requisites for staff are as follows:
Youth: Must have attended NYLT and finished the course in good standing.
Adults: Must have attended Wood Badge and finished the course in good standing.
Applicants must submit a Staff application to the Course Director.
PLEASE NOTE: THIS IS ONLY A WAY TO EXPRESS YOUR INTEREST IN BEING A MEMBER OF THE STAFF. All Staff positions are filled by the Course Director. An in-person interview may or may not be part of the selection process. If you have more questions please contact the Course Director for the specific course you are interested in staffing.