Tanah Keeta Summer Camp 2020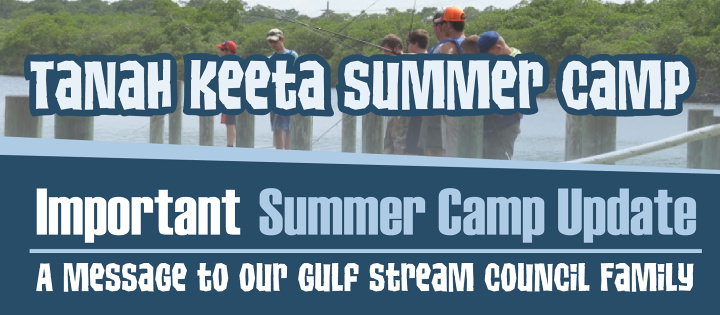 Tanah Keeta Summer Camp Canceled due to COVID-19 Concerns
To our fellow Scouts, Parents, and Leaders,
Over its 63-year history, Tanah Keeta Summer Camp has always been a home to Scouting. Summer Camp offers units the opportunity to learn new skills, develop personal character, and enjoy adventure in the outdoors. The Gulf Stream Council is committed to providing outdoor program given that it can be achieved safely.
The rapid increase in new coronavirus cases in Florida has caused concern for many of our members. We understand that no matter what steps we take to ensure the health of our campers in this environment, there are factors that are simply beyond our control. For many the risk is just too great. In the interest of the health and peace of mind of our participants, families and staff, we have decided to cancel our 2020 Summer Camps.
This decision was not made lightly, in fact – this was the last thing we wanted to do. To those disappointed to hear this news, know that we are with you.
Please take this opportunity to stay at home and focus on staying healthy in these unusual times. Be safe when going out and continue to practice and follow all available public health guidance.
Those who were registered for Summer Camp will be entitled to a full refund of camp fees. More details will be sent directly to our participants.
We encourage our Scouts and Leaders to get involved in our Remote Activity Workshops (R.A.W.) for virtual merit badge instruction. To find out more about what activities are available, visit the R.A.W. landing page at www.gulfstreamcouncil.org/raw-2020
We are looking forward to continuing all our Summer Programs in 2021, including our Scouts BSA Summer Camp and Cub Scout Resident Camp. We hope you'll join us.
In Scouting,
Alec Connolly, Camp Director
Robert Ulrich, Program Director
2020 Scouts BSA Week 1 (7/05 to 7/11) July 05, 2020 to July 11
2020 Scouts BSA Week 2 (7/12 to 7/18) July 12, 2020 to July 18