Tanah Keeta Summer Camp 2023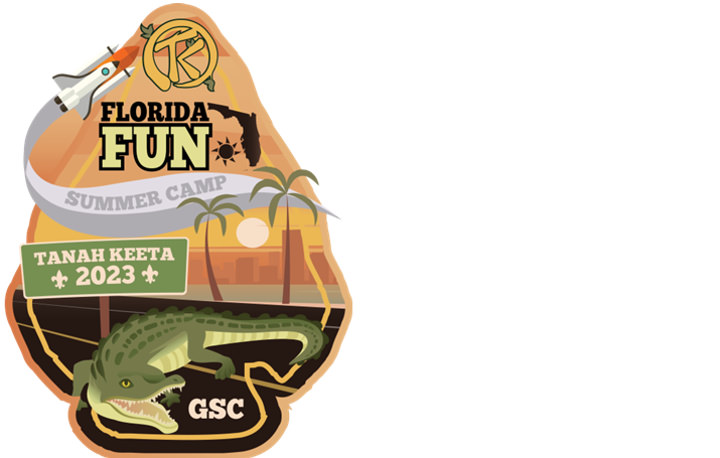 Summer Camp is back and has a new look for 2023!
The Gulf Stream Council's premiere Scouts BSA Summer program returns to provide a summertime experience that includes both the new and familiar! Our Summer Camp program has something for everyone. As always, there will be a variety of merit badge offerings. But there will also be fresh experiences as well. This year we're offering Rank Workshops to give scouts the opportunity to work on the requirements needed for advancement to their next rank. Also available will be Patrol Workshops to promote leadership skills and camaraderie.
Add-on Adventure Programs are back this year. These include the Angler Adventure and SCUBA Adventure, as we've had in years past. We're also offering these new off-site adventures:
Week 1 - A Space Adventure at Kennedy Space Center!
Week 2 - An Everglades Encounter with the Gator Boys, where you'll tour the "River of Grass" on an airboat.
Week 3 - A Florida Water Adventure featuring a Sea Turtle Encounter at the Loggerhead Marine Center, a snorkel tour and a visit to the Jupiter Lighthouse.
It can't get any more exciting than this!
Summer Camp 2023 Dates
Scouts BSA Summer Camp Week 1: June 18 – 24, 2023
Scouts BSA Summer Camp Week 2: June 25 – July 1, 2023
Scouts BSA Summer Camp Week 3: July 5 – 11, 2023
Cub Scout Resident Camp: July 12 – 15, 2023
Earlybird Registration Now Open!
2024 Scouts BSA Summer Camp Week 1 June 16, 2024 to June 22

2024 Scouts BSA Summer Camp Week 2 June 23, 2024 to June 29
2024 Scouts BSA Summer Camp Week 3 June 30, 2024 to July 06