Virtual Camporee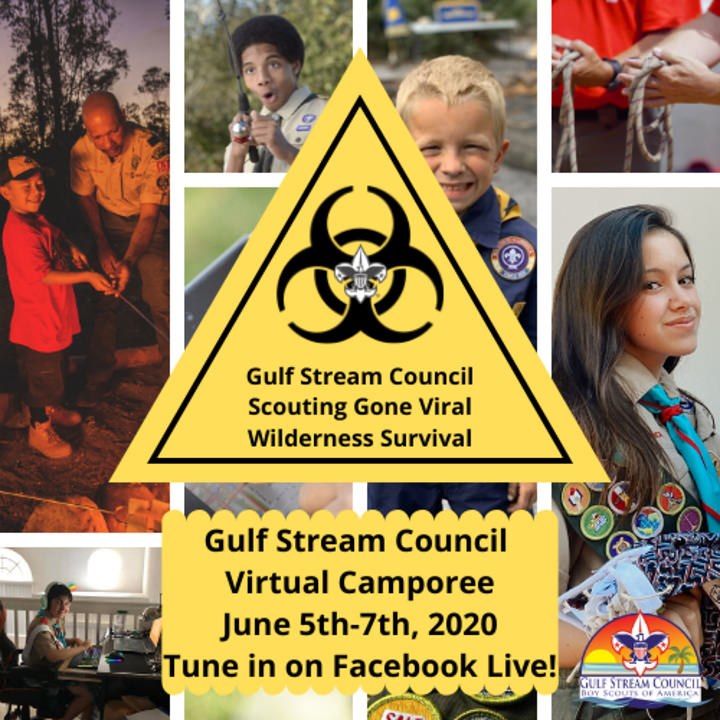 June 6 - Scouting Gone Viral Virtual Camporee
Join us for a morning of Cub Scout fun! For our newest Scouts and last year's Lions, we'll have a chance to work on our Bobcat rank. Tigers will practice being "Safe and Smart" and our Wolves will be able to interview one of our "Hometown Heroes." Bears will have a chance to learn all about how "A Bear Goes Fishing", and our Webelos and Arrows of Light will be "Castaway" for a survival-themed adventure!
We are super excited to announce this awesome opportunity! Join us on May 16th for the "Where the Mountains meet the Sea Online Camporee!"
In partnership with the Black Hills Area Council (BSA) in South Dakota, ScoutsBSA members from both GSC and BHAC will be able to participate in the Mining in Society merit badge and Oceanography merit badge. This Camporee will also include campsite photo competitions, cooking demonstrations, a campfire, and more!
Spots will be limited. Registration will open for Gulf Stream Council ScoutsBSA members Monday, 5/4/20 at 9pm. More details will be announced soon.
The cost is $10 per Scout to include a limited edition commemorative patch. Only register if you are a registered member of ScoutsBSA and intend to fully participate in the event. Upon registration, please make sure your address is correct as your patch will be mailed.
Registration must be coordinated through your local council. Due to limited registration availability, this event is only available to members of Gulf Stream Council and Black Hills Area Council.
This is going to be an outstanding inter-council event! More details will be announced soon!