Top Recruiter Class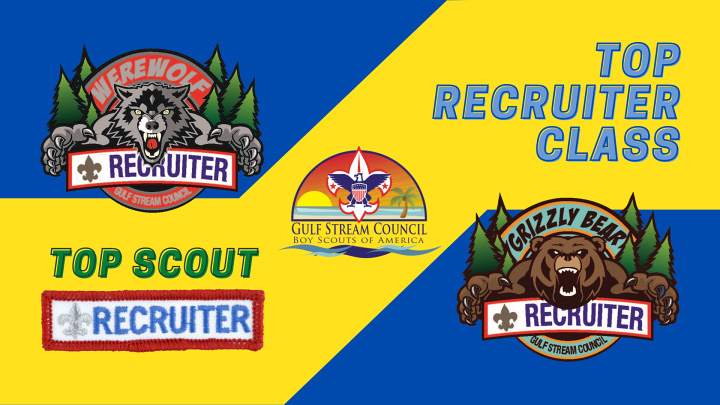 Cub Scouts
Two recruiter awards are available to Cub Scouts: the Werewolf Recruiter and the Grizzly Bear Recruiter. These recognize Scouts who recruit 1-2 Scouts (Werewolf) or 3+ Scouts (Grizzly Bear).
Scouts BSA / Venturing / Sea Scouts
The "Top Scout" Recruiter award recognizes Scouts who recruit at least one youth into a Scouts BSA, Venturing, or Sea Scout program. We will provide your Recruiter Strip for presentation at an upcoming Court of Honor!
Submission Deadline & Awards Presentation
Submissions for the three Recruiter awards may be made at any time. The last date to submit your Recruiter information is October 31, 2022!
In November, awards will be mailed once your District Executive has verified scouts' membership through the Council Service Center. Scouts may be new or returning after a year or more. Please allow 2-3 weeks for verification and shipping. Remember, Scouting is more fun with friends!

---