TC Fish-O-Ree 2019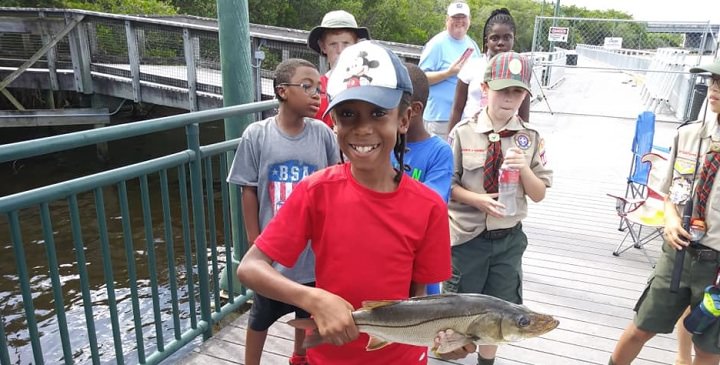 Treasure Coast District Fish-o-Ree is just around the corner. This year's event will be held Sept. 28, 2019 at Veterans Park at Rivergate in Port St. Lucie. This annual event is a great opportunity for Scouts of all ages to come out and enjoy a day of fishing and fun with their fellow Scouters. Learn about the laws of fishing in Florida waterways from a Florida Fish and Wildlife officer, learn to tie knots for fishing with seasoned fishermen and how to bait and cast a pole. Scouts from other districts are welcome to join in the fun.
OPEN TO ALL DISTRICTS and SCOUTS OF ALL AGES
Where: Veteran's Park at Rivergate (Riverwalk Boardwalk)
2200 Veteran's Memorial Pkwy, Port St. Lucie, FL
When: September 28, 2019 9am-12pm
Cost: Scouts and Scout-age siblings who want to fish:
$5 Early Bird Registration Deadline is 9/07/19
$7 Regular registration by 9/21/19
$10 Day of event
Adults can participate with a donation.
Prizes for smallest fish, largest fish and most fish caught!
Bring your fishing pole if you have one, loaners will be available.
TC Fish-O-Ree 2020 September 25, 2020 to September 27