Charter Renewal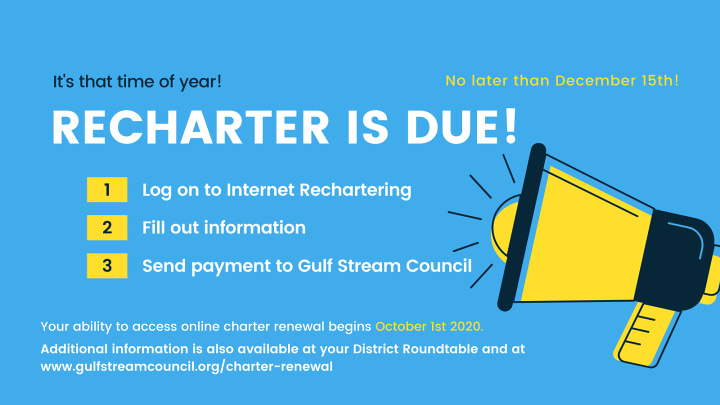 Reminder: You need your unit access code (under resources). This code is new each year and you must log in as a new user.
---
DUE BEFORE DECEMBER 15th
PROCESS:
DURING THE MONTH OF OCTOBER, you will receive an email that will include your access code, instructions for renewal, and links to required documents.
Your ability to start the online process to November 1st. During this time the unit's charter is able to be modified. Units can enter the system as much as needed to make changes to the unit. DO NOT PRESS "SUBMIT CHARTER" UNTIL ALL CHANGES ARE MADE. Once the charter is submitted, it can no longer be changed.
NOTE-ALL REGISTERED ADULTS must sign the additional disclosure statement. Recharters will not be accepted or processed without a new form from each registered adult.
YOUTH PROTECTION TRAINING is required for all registered adults. Recharters can not be accepted or processed without copies of certificates from all new adults or adults with expired training. Printed certificates must be included. Verbal confirmation of completion is not enough.
BY NOVEMBER 30, the commissioner and unit committee chair should have conducted the charter renewal meeting, which includes identifying youth and adults to reregister, completing forms, and collecting fees. The executive officer of the chartered organization or the chartered organization representative approves all volunteers and the unit leader certifies the youth to be registered. Participants of this meeting should include the commissioner, chartered organization representative, executive officer of the organization, unit leader, and all other unit volunteers.
All recharter packets are due in to your Commissioner or District Executive by December 15th.
| File Name | Description | |
| --- | --- | --- |
| Membership Fees 2021 | GSC Membership Fees. Effective 1 Aug 2021. | Download |