Charter Renewal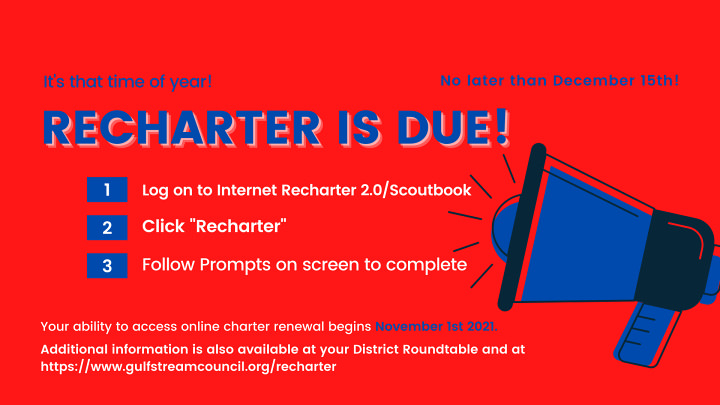 The Boy Scouts of America offers an online charter renewal process for units. Recently, this process was moved to improve systems and increase speed and efficiency in processes.
Located at https://advancements.scouting.org, the new Internet Recharter system provides a more simplistic approach to the rechartering process and can be completed from start to finish without a single piece of paper changing hands.
---
DUE BEFORE DECEMBER 15th
PROCESS:
DURING THE MONTH OF OCTOBER,

you will receive an email that with basic recharter details. Recharter will be done through the Internet Advancement platform. No code is necessary for this process.
Your ability to start the online process begins on November 1st.

During this time the unit's charter can be modified. Units can enter the system as much as needed to make changes to the unit. DO NOT PRESS "SUBMIT CHARTER" UNTIL ALL CHANGES ARE MADE. Once the charter is submitted, it can no longer be changed.

NOTE-ALL NEW REGISTERED ADULTS must sign the additional disclosure statement.

Recharters will not be accepted or processed without a new form from each new registered adult. You can upload scanned copies of all adult applications and CBC forms required into the recharter system. The copies will come directly to the Council.
YOUTH PROTECTION TRAINING is required for all registered adults.

Recharters cannot be accepted or processed without copies of certificates from all new adults or adults with expired training. Printed certificates must be included. Verbal confirmation of completion is not enough. Copies of proof of training
BY NOVEMBER 30,

the commissioner and unit committee chair should have conducted the charter renewal meeting, which includes identifying youth and adults to reregister, completing forms, and collecting fees. The executive officer of the chartered organization or the chartered organization representative approves all volunteers and the unit leader certifies the youth to be registered. Participants of this meeting should include the commissioner, chartered organization representative, executive officer of the organization, unit leader, and all other unit volunteers.
All recharter packets are due in to your Commissioner or District Executive by December 15

th

.
For more information on Internet Rechartering 2.0, please click here.
| File Name | Description | |
| --- | --- | --- |
| Adult Application | | Download |
| Charter Agreement | | Download |
| F.A.Q. Internet Rechartering 2.0 | | Download |
| Internet Rechartering 2.0 User Guide | | Download |
| Membership Fees 2021 | GSC Membership Fees. Effective 1 Aug 2021. | Download |
| Membership Fees 2022 | Membership Fee Structure effective August 1, 2022 | Download |
| Youth Application | | Download |