Charter Renewal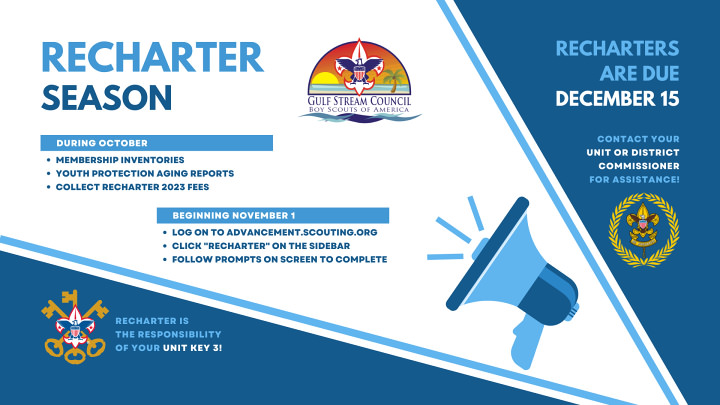 Overview
The Boy Scouts of America offers an online charter renewal process for units. Located at https://advancements.scouting.org, the online Recharter system provides a more simplistic approach to the rechartering process and can be completed from start to finish without a single piece of paper changing hands.
The online recharter system open to Gulf Stream Council chartered units on November 1, annually.
All online recharters and additional outstanding documentation must be submitted online and provided to your Unit Commissioner or District Executive no later than December 15, annually.
October
Preparation for online recharter begins in October with two key step: Membership Inventories and Youth Protection Training. Additional information about online recharter will be provided to your Unit Key. Your Unit Commissioner and District Executive are available to help you prepare.
Membership Inventories
Making sure your unit's roster is accurate saves you time during recharter. Print out your roster and approach your families to: (1) verify members re-registering with the unit, noting unit of primary registration if in multiple units; (2) verify Scout Life subscription; (3) communicate and collect recharter fees.
Once the membership inventory is completed, retain the roster - this will be helpful during the data input process. If you have unregistered youth or adults, please provide applications to your District Executive or the Council Service Center as soon as possible!
Youth Protection Training (YPT)
All adult members and youth members over age 18 must have current YPT. Youth turning 18 before between December and February need to complete YPT and an adult application if continuing as a youth participant in Scouts BSA, Venturing, and Sea Scouts. Printed certificates of completion must be included for all new adult members with their adult application. Recharters cannot be accepted or processed without them!
November
The online recharter system opens on November 1, and units may begin to make modifications to their charter. Units can enter the system as much as needed to make changes to the unit. Do not press "Submit Charter" until all changes are made! Once the charter is submitted, it can no longer be changed.
Additional Disclosure Agreement
All new registered adults must sign the additional disclosure agreement. Recharters will not be accepted or processed without a new form from each new registered adult. You can upload scanned copies of all adult applications and CBC forms required into the recharter system. The copies will come directly to the Council.
December–January
All online recharters and additional outstanding documentation must be submitted online and provided to your Unit Commissioner or District Executive no later than December 15, annually. Contact your District Commissioner about opportunities to turn-in at your December Roundtable!
During late December and January, any outstanding items or errors with your recharter will need to be resolved. Issues related to members with registrations in multiple units will delay processing for all units! It is imperative that all errors are resolved before January 31, as this is the expiration date for charters in the Gulf Stream Council.
Journey to Excellence
Scorecards for your unit's Journey to Excellence may be turned in with your recharter packets in December. The tracking period follows the calendar year; we advise all units complete and turn in to your Unit Commissioner or District Commissioner by January 31.
Special Instructions for Scouts turning 18 during Dec–Jan
In order to submit the recharter, the Scout would be registered as a youth, as currently listed. When the process is completed after February 1, and if he/she wants to register in an adult position, that would have to be adjusted with an adult application, YPT and background check form.
If the Scout completes all of the requirements for Eagle Scout (except for the Board of Review), the Scout doesn't need to be registered in February as an adult, unless he/she wants to be an adult leader in the Troop.
If the Scout is over 18 and has an Eagle Extension, he/she would register as a "Unit Participant". This is a youth registration but required and adult application, YPT certificate and background check form.
Resources
| File Name | Description | |
| --- | --- | --- |
| Adult Application | Adult Application (2022) - Pages 3 must be signed by applicant & Charter Org. Rep. Page 6 must be signed by applicant. | Download |
| Annual Charter Agreement | Agreement between Charter Org & Gulf Stream Council. Must be signed by Chartered Org. Rep. & Committee Chair. The Institutional Head must sign if a different person than the Chartered Org. Rep. | Download |
| Charter Renewal 2023 Overview | Overview of the timeline and process for Recharter 2023 | Download |
| FAQs - Internet Recharter 2.0 | Frequently Asked Questions about Internet Recharter. Updated for Recharter 2023. | Download |
| Membership Fees 2022 | Membership Fee Structure effective August 1, 2022 | Download |
| Youth Application | Youth Application - Page 3 must be completed and signed by applicant's parent/guardian, and signed by Unit Leader (or designee). | Download |