National Jamboree 2021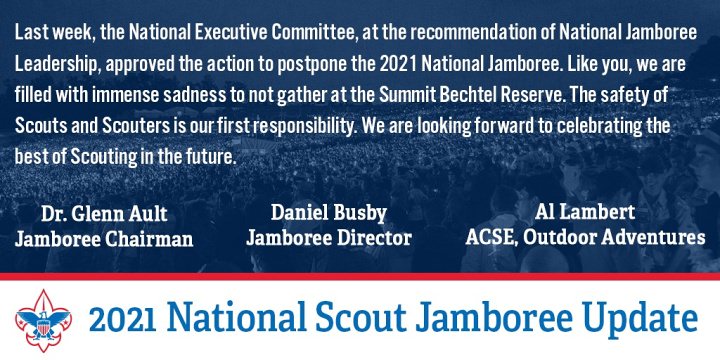 The National Executive Committee, at the recommendation of the National Jamboree Leadership, approved the action to postpone the 2021 National Jamboree at the Summit Bechtel Reserve in Beckley West Virginia. This decision was made out of caution for the health and safety of the scouts, volunteers, and staff members. Planning and decision making timelines leading up to the Jamboree, with the current state of COVID-19, would make it nearly impossible to safely have an event of this magnitude. For more information, please click here.
Information regarding refunds to Gulf Stream Council contingent members will be announced as soon as we have information available. Local Councils were just informed within the hour. When a decision has been made on new dates, we will let you all know. Thank you to all of the adult leadership who has stepped up and had been working on planning an awesome Contingent the past few months. We hope you will join us when we can safely gather for our next National Jamboree.