STEM Forensics Day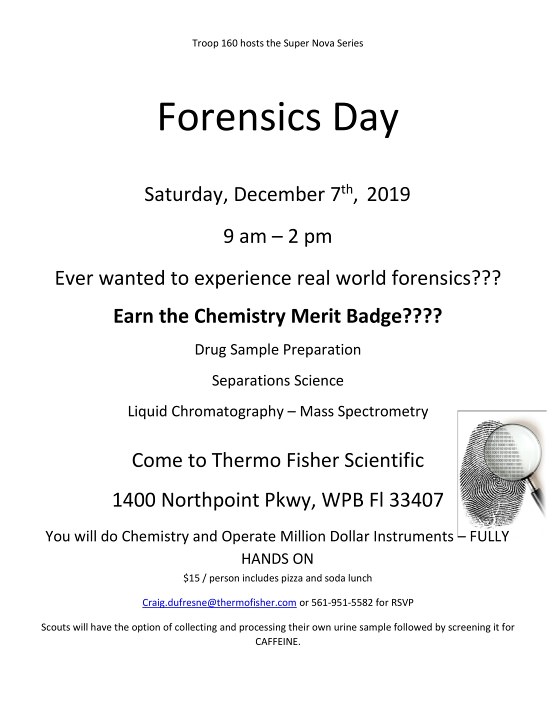 Date/Time:
Dec 7, 2019 9:00 am to 2:00 pm
Location:
Thermo Fisher Scientific
1400 Northpoint Pkway
West Palm Beach, FL 33407

This is a pay at door event.
How the day works:
Scouts and adults (donating $5 for lunch is optional) will be broken up into teams. There will be some large group presentations given on techniques and concepts.
The Scouts will be shown a crime scene (staged using my stuffed teddy bear).
They will be taught and required to sketch the scene, collect the evidence, and process the samples in the lab to produce a set of data which can be discussed with a "police officer".
The Scouts will be given an opportunity during the session on drug evidence to "pee in the cup" and use an instrument to identify levels of the drug caffeine in their urine if they feel comfortable.
The Scouts will be expected to act professionally in a business environment. Scouts should be mature enough to handle discussions about bodily fluids. Scoutmasters will be responsible to determine on an individual basis what age is appropriate. Scouts will be required to show up with closed toe footwear. Nice shorts and a Scouting T-shirt would be appropriate attire.
Scouts will be given a safety tour and will be required to sign a form attesting that they were shown safety equipment and how to use it.