Everglades Cub Scout Shoot-O-Ree 2021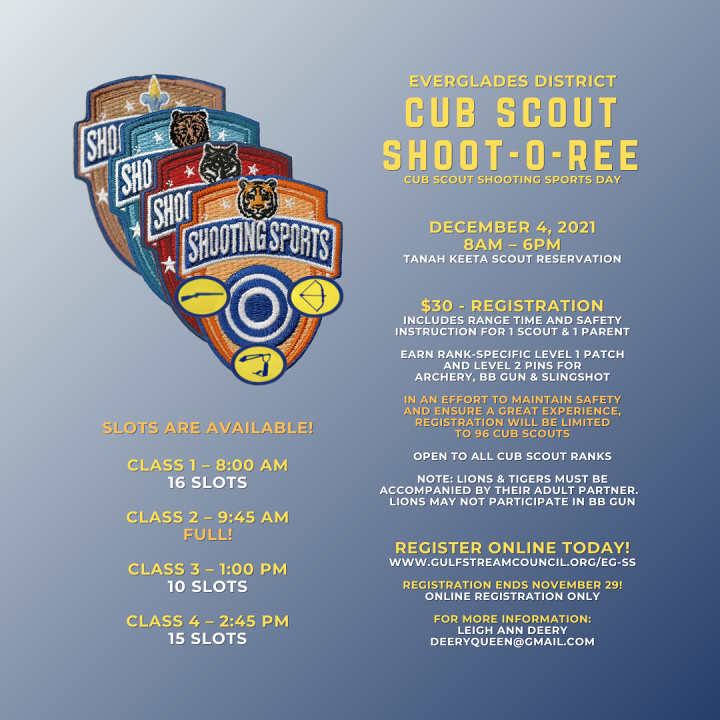 Cub Scouts Shoot-o-Ree at Tanah Keeta! At this day-only event, Cub Scouts will be able to earn Level 1 and Level 2 Shooting Sports Awards in BB Guns, Archery, & Slingshot. The registration fee is $30 and includes 1 Scout and 1 Adult.
In an effort to maintain safety and ensure a great experience, registration will be limited to 96 Cub Scouts.
Note: Each Scout should be assigned to a class slot using the "CLASSES" tab in registration. Scouts must arrive to the ranges in time for their assigned block.
Class 1 - begins at 8:00am
Class 2 - begins at 9:45am
Class 3 - begins at 1:00pm
Class 4 - begins at 2:45pm

Register now!

Where: Tanah Keeta Scout Reservation
8501 SE Boy Scout Rd, Jupiter FL 33469
When: December 4th, 2021
Cost:
Cub Scout Participant: $30
Adult Spectator: FREE!
Staff: $5
2021 Cub Scout Shoot-o-ree December 04, 2021