Scout Advancement Weekend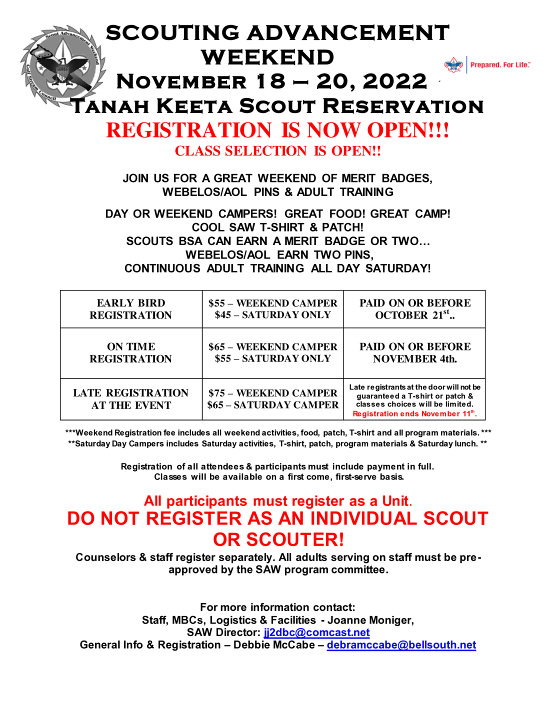 SCOUTING ADVANCEMENT WEEKEND (SAW) 2022 - Scouts BSA get a hands-on experience while earning Merit Badges. We will offer over **40 plus Merit badge classes to choose from, Scouts could take an all-day class or two half day classes…The Merit Badge Counselors for all the classes are either employed in their field or are hobbyists in the class they teach. SAW gives each scout the opportunity to learn from the best and perhaps think of a career choice in the future.
Webelos & AOL Cub Scouts also join the older Scouts for the weekend to get the Scouts BSA experience, they are offered their own classes. Webelos will earn two Adventure Pins during SAW
Not to leave the Adult leaders out…training classes will also be offered throughout the day, choices could include Scoutmaster Specific, Merit Badge Counselor training, Cope Instruction, Executive Board Chat, Campfire building to Knot tying & more, classes run continuously, so Scouters can fit them into the day's schedule.
Please do not sign up with your individual family account, in order to process over 1200 participants, we ask that you only sign up thru your Pack or Troop...if you want to see what classes are being offered when the selection opens, you can scroll down to the bottom of the registration page without registering.
Now offering Wilderness First Aid - Youth 14 & older and adults - pre-reqs required...see WFA download.
Still looking for a few MBCs, if you are a registered MBC and would like to teach a class, contact Joanne Moniger at jj2dbc@comcast.net
| File Name | Description | |
| --- | --- | --- |
| Tentaroo – How to register for SAW 2022 and retrieve class completions. | | Download |
| SAW 2022 - Adult Training Classes | | Download |
| SAW 2022 - Event Flyer - Open Registration & Classes | | Download |
| SAW 2022 - FAQs | | Download |
| SAW 2022 - GSC Refund Policy | | Download |
| SAW 2022 - MB pre-reqs, Class Preparations & fees | | Download |
| SAW 2022 - Parking guidelines | | Download |
| SAW 2022 - Registration Information | | Download |
| SAW 2022 - T-shirt sizes | | Download |
| SAW 2022 - Youth Classes | | Download |
| SAW 2023 - Wilderness First Aid Training Course | | Download |