Webelos Woods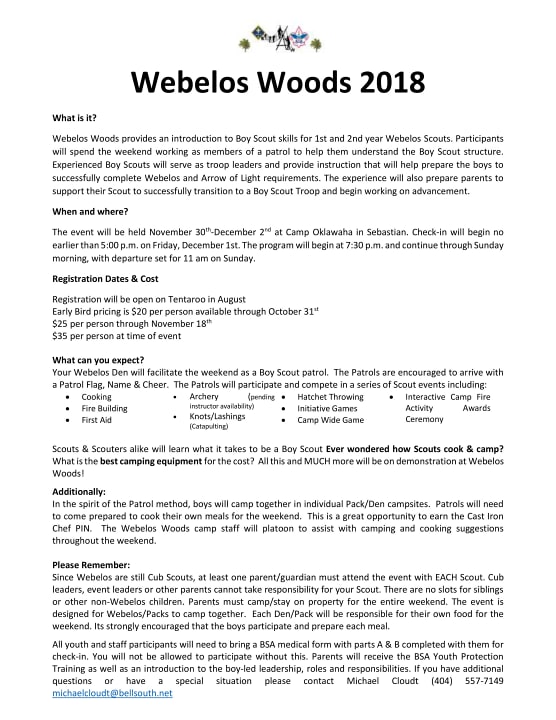 What is it?
Webelos Woods provides an introduction to Boy Scout skills for 1st and 2nd year Webelos Scouts. Participants will spend the weekend working as members of a patrol to help them understand the Boy Scout structure. Experienced Boy Scouts will serve as troop leaders and provide instruction that will help prepare the boys to successfully complete Webelos and Arrow of Light requirements. The experience will also prepare parents to support their Scout to successfully transition to a Boy Scout Troop and begin working on advancement.
When and where?
The event will be held November 30th-December 2nd at Camp Oklawaha in Sebastian. Check-in will begin no earlier than 5:00 p.m. on Friday, December 1st. The program will begin at 7:30 p.m. and continue through Sunday morning, with departure set for 11 am on Sunday.
Registration Dates & Cost
Registration will be open on Tentaroo in August
Early Bird pricing is $20 per person available through October 31st
$25 per person through November 18th
$35 per person at time of event
What can you expect?
Your Webelos Den will facilitate the weekend as a Boy Scout patrol. The Patrols are encouraged to arrive with a Patrol Flag, Name & Cheer. The Patrols will participate and compete in a series of Scout events including:
Cooking
Fire Building
First Aid
Archery (pending instructor availability)
Knots/Lashings (Catapulting)
Hatchet Throwing
Initiative Games
Camp Wide Game
Interactive Camp Fire Activity Awards Ceremony
Scouts & Scouters alike will learn what it takes to be a Boy Scout Ever wondered how Scouts cook & camp? What is the best camping equipment for the cost? All this and MUCH more will be on demonstration at Webelos Woods!
Additionally:
In the spirit of the Patrol method, boys will camp together in individual Pack/Den campsites. Patrols will need to come prepared to cook their own meals for the weekend. This is a great opportunity to earn the Cast Iron Chef PIN. The Webelos Woods camp staff will platoon to assist with camping and cooking suggestions throughout the weekend.
Please Remember:
Since Webelos are still Cub Scouts, at least one parent/guardian must attend the event with EACH Scout. Cub leaders, event leaders or other parents cannot take responsibility for your Scout. There are no slots for siblings or other non-Webelos children. Parents must camp/stay on property for the entire weekend. The event is designed for Webelos/Packs to camp together. Each Den/Pack will be responsible for their own food for the weekend. Its strongly encouraged that the boys participate and prepare each meal.
All youth and staff participants will need to bring a BSA medical form with parts A & B completed with them for check-in. You will not be allowed to participate without this. Parents will receive the BSA Youth Protection Training as well as an introduction to the boy-led leadership, roles and responsibilities. If you have additional questions or have a special situation please contact Michael Cloudt (404) 557-7149 michaelcloudt@bellsouth.net