Everglades presents: Trekking on Safari (Scouts BSA)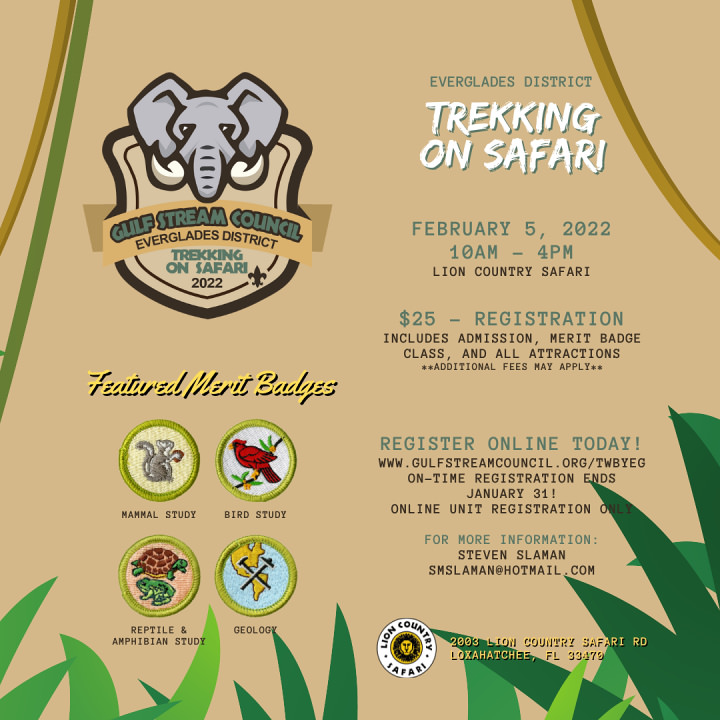 Trekking on Safari is a hands-on Merit Badge Day led by the experts in the field and is geared for Scouts BSA. Mark your calendars for February 5th, 2022 at Lion Country Safari!

Lion Country Safari has a classroom adventure program for Scouts BSA.
All participants will receive a special edition event patch
Drive-Thru Safari (unlimited until 4:30pm)
Rides, water park, and animal feeding attractions will be open!
Free Parking PLUS 20% off all food and retail purchases in the park!
Everyone entering Lion Country Safari for this event must be registered and paid. Additional family and friends accompanying registered Scouts and adults, who are not registered before the event, are welcome to attend but must pay the individual walk-up event fee at the gate. Children under 3 are free and do not need to be registered.

Lion Country Safari will also host a Cub Scout Adventure Day, "Scouting in the Wild" on January 15th, 2022. Register and find out more here.

Advancement Offerings:
10:00-11:00- Bird Study

Requirements covered: 1, 2, 6, 10A, 10B, 11

11:30-12:30- Mammal Study

Requirements covered: 1, 2, 4g, start 5

1:30-2:30- Reptile and Amphibian Study

Requirements covered: 1, 3, 4, 7, 9B, 10

3:00-4:00- Geology

Requirements covered: 1, 4B, 5C1, 5C2, 5C3b, 5C5b

Unit Registration is required for this event.
Register now!

Where: Lion Country Safari
2003 Lion Country Safari Rd, Loxahatchee, FL 33470
When: February 5th, 2022
Cost:
$25 On-Time Registration through 1/31/22
$26 Late registration on or after 2/1/22