Scout Night @ Roger Dean Stadium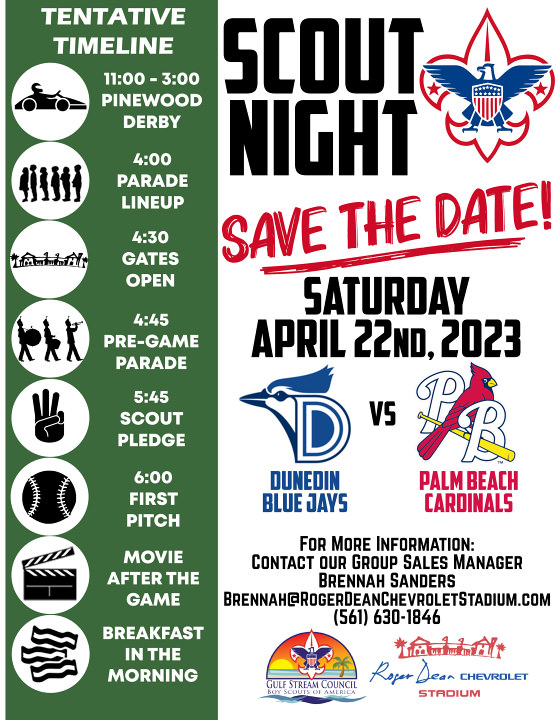 Date/Time:
Apr 22, 2023 11:00 am to Apr 23, 2023
Location:
Roger Dean Chevrolet Stadium
4751 Main Street
Jupiter, FL 33458
Location Phone: 561-630-1846

This is an awesome event where Scouting is showcased throughout the evening game, including a pre-game scout parade and color guard, and special activities for our scouts to participate in. Following the game, scouts and their families are invited to stay and camp overnight on the Outfield and watch a movie on a jumbotron! An event patch and continental breakfast will also be provided.
It will absolutely be an "Out of the Ball Park" Scouting event! Hope to see you there!
To register, please complete the Ticket Order Form and send to Brennah Sanders at brennah@rogerdeanchevroletstadium.com.
Lighthouse District Pinewood Derby
The Lighthouse District Pinewood Derby will be held at Roger Dean Stadium in the morning beforfe Scout Night. Scouts eligible to compete in this event must registered through the form below.
---
| File Name | Description | |
| --- | --- | --- |
| Scout Night 2023 Late Night Snacks Order Form | Late Night Snacks Order Form for Scout Night 2023 at Roger Dean Stadium | Download |
| Scout Night 2023 Ticket Order Form | Ticket Order Form for Scout Night 2023 at Roger Dean Stadium | Download |