Join Scouting Now!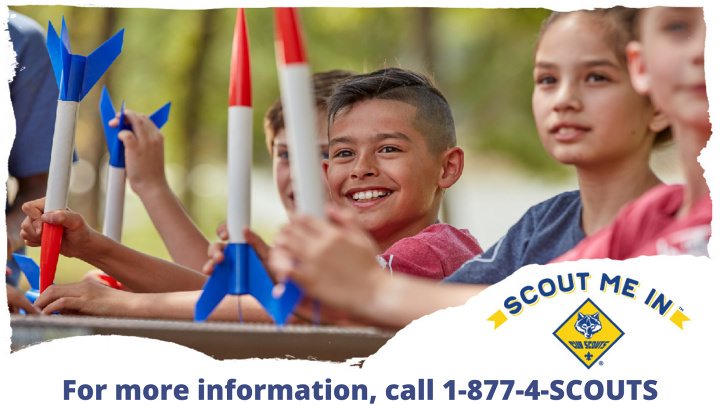 Scouts do stuff. They build things. Play with purpose. Make friends and work together. Set goals and clear them. They go places. Physically. Mentally. Spiritually. These life-changing experiences — and the confidence they provide — become bricks in the wall of childhood. Bricks that eventually form a foundation. One a Scout can stand on to embrace opportunity and overcome obstacles. For the parents watching in awe, it's not a question of where their Scout will go, but where won't they go.
Discover fun, adventure, and learning through Scouting
Scouting is a year-round program uniquely designed to meet the needs of children and their families. The program offers fun and challenging activities that promote character development, citizenship, and physical fitness. Family involvement is an essential part of the program, and parents are encouraged to play an active role in making the most of the short time they have to impact the lives of their children.
Scouting is designed to be experienced outdoors. Hiking, camping, mountain biking, skateboarding, BMX, mountain climbing, kayaking, whitewater rafting--these are just some of a Scout's outdoor experiences.
From 14-20 year-old, male and female, Scouts go coed...
Venturers discover a world of excitement with heart-pounding adventure and far-off travel, while developing a lifestyle of genuine friendship and caring for others.
All teens have one—a moment that opens their eyes to a world that's bigger than they ever imagined. It might happen while paddling a quiet lake, bonding with new friends around a beach bonfire, or rising to the challenge of leading an exhausted crew to the edges of adventure. Venturing gives young men and women access to a range of programs and empowers them to create their own experiences. It brings Scouting values to life through both high adventure outdoor activities and challenging real-world projects.
Sea Scouting is America's premiere on the water high adventure and personal development program for over 100 years. Sea Scouts enjoy sailing, cruising, paddeling, snorkeling--anything to do with water. But it doesn't stop there! Scouts will learn to lead others and give back while serving the community, nation, and fellow Scouts because service is a core principal of Sea Scouting. One of the best parts of Sea Scouting is the friends made from crewmates, to competitors from rendezvous, to foreign Scouts met at regattas. The attraction of water can lead to a future career in the military, the marine industry, or a lifelong hobby; but Sea Scouting provides an opportunity to choose their path and forge their future.
Scouting isn't just for youth!
Behind every trustworthy, loyal, helpful, friendly, courteous, kind, obedient, cheerful, thri!y, brave, clean and reverent Scout is a long line of committed volunteers who share those same traits. Volunteering has always been the very bedrock of the Scouting program. Volunteering is the key that unlocks the confidence kids need to stand on their own two feet. But it also opens the door for adults to share inspiring experiences with their own child, make friendships that will last a lifetime, and put a bunch of good kids on the path to a great life. Ask any of our volunteers and they'll tell you, volunteering with Scouting is as rewarding to them as it is meaningful to the kids. Watching kids grow is one thing — leading them through the process is a whole new experience all together.