Everglades presents CLAW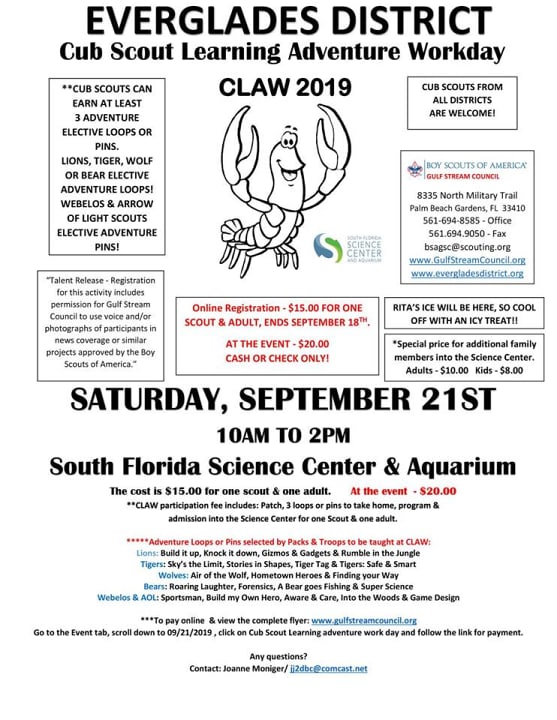 Date/Time:
Sep 21, 2019 10:00 am to 2:00 pm
Location:
South Florida Science Museum
4801 Dreher Trail North
West Palm Beach, FL 33405

Printable flyer - click
HERE
.
Cub Scout Learning Adventure Workday – in its 11th year, CLAW 2019 is set to be a great day of learning & earning…. Cub Scouts from all Districts can enjoy a day of FUN! Mark your calendar for Saturday, September 21st from 10am to 2pm.
Join us at the South Florida Science Center & Aquarium, where Packs & Troops will have Cub Scout Adventure Elective Loops & Pins booths set up around & inside the Science Center, at least 3 to choose from for each rank. Visit your rank's booth, complete the requirements and take home your top 3 loops or pins!
Online registration only this year, the $15.00 registration fee for a Scout & an adult includes participation at CLAW, a cool patch, the 3 loops or pins and entry into the Science Center for a full day of FUN!
From Build it up. Knock it down for the Lions, Stories & Shapes for the Tigers, A Bear goes Fishing for the Bears & Game Design for the Webelos/ AOL's …just to name a few…. Scouts can start off the new Scouting year earning 3 adventure awards!
Registration is now open, go to www.gulfstreamcouncil.org for more information and to register.
Packs & troops interested in teaching a Loop or Pin or any questions can contact, Joanne Moniger – jj2dbc@comcast.net