Bob Peters Excellence in Leadership Award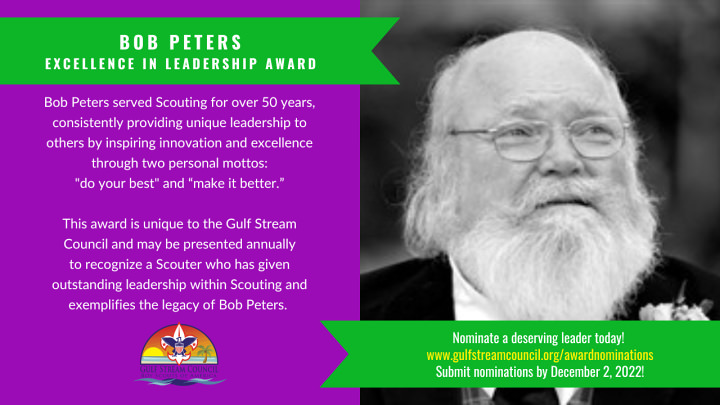 Bob Peters served Scouting as an Eagle Scout for over 50 years – and as a Scouter at the unit level, district level, council level and national level. But Bob was never just a participant. He always gave unique leadership and new ideas to every program or event he was involved with. He inspired and encouraged bright ideas and leadership from boys as well as from adults and always encouraged them to "do their best". Under continued and ever challenging physical restrictions, Bob was the face of kindness, humor, bravery and solid scouting values as he trained and mentored hundreds of Scouts and Scouters over his career. Whether it was Scoutmastering, training adults, leading a song, preparing a flip chart or telling a story, Bob's personal motto and the example he set was always to do his best and to make whatever he was doing better than it was before.
This award may be presented annually by the Gulf Stream Council to recognize a Scouter who has given outstanding Leadership to programs, to events or to his or her scouting job following the example of Bob Peters. This goes beyond participation and direction, but goes to the point of giving real leadership and bright, new ideas and ideals which strive to "make it better" than it was before.
Nominations are due by December 2, 2022!
---